Tool for freelancers
who care about their time
PrimeLance gives thousands of freelancers
to increase their efficiency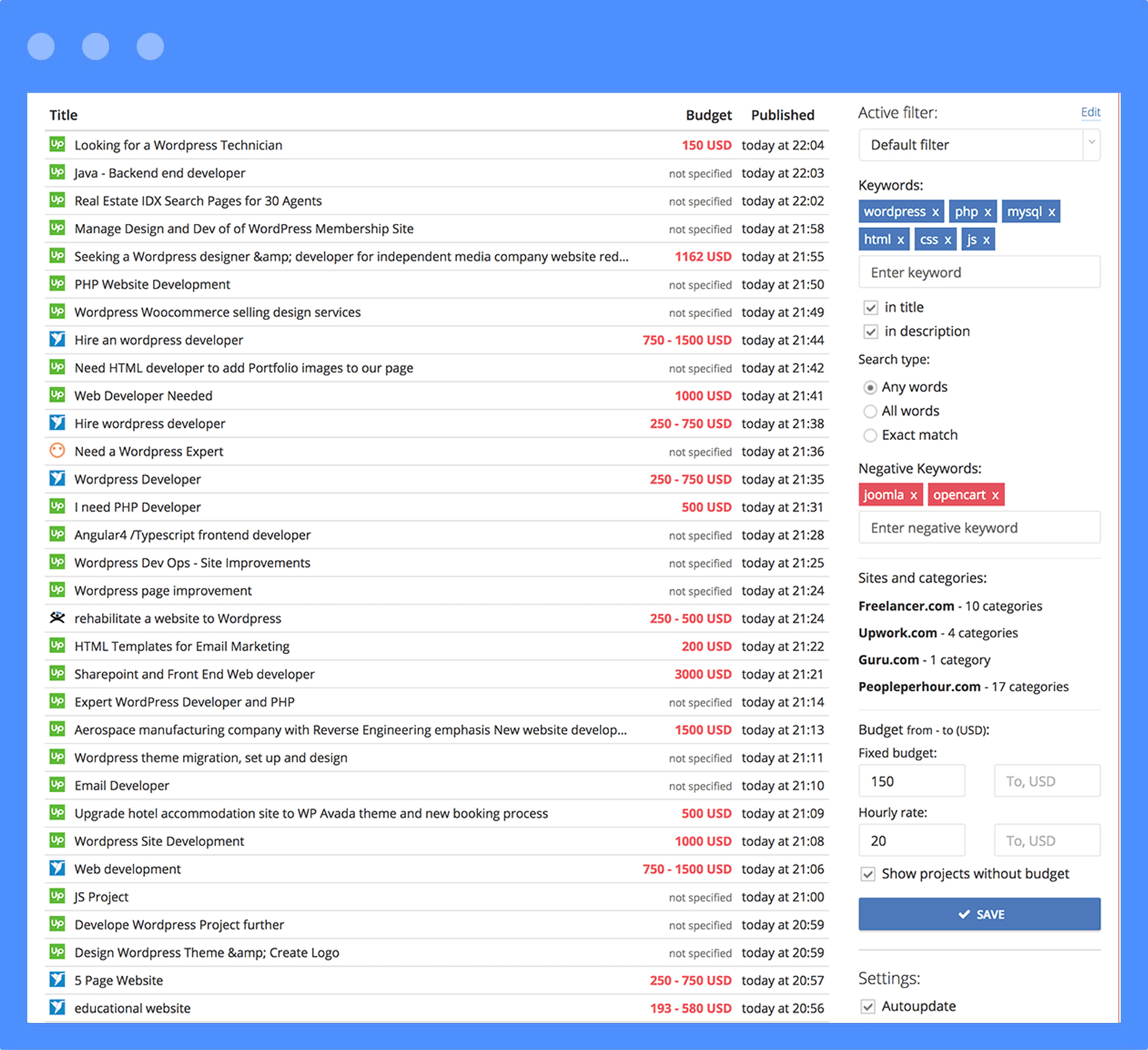 Perfect tool for freelancers
We create a tool that will allow you to receive the most interesting projects instantly. You do not need to waste your time searching for great offers - our algorithm will select and deliver it to you right on time!
More than 17,000 freelancers use PrimeLance. Присоединиться
Quick registration

Sign up now and get a coupon for free usage of PrimeLance Pro

Setup your filter

Add a few filters, and set up parameters to get only interesting suggestions

Start saving your time

Set up monitoring and notifications in the mail, so you do not miss the best offers.
We aggregate projects only
from popular freelance services
No spam. Only proposals published by leaders. Only quality offers.
Become a Premium Freelancer
Freelance monitoring
Monitoring only your specialization and projects, interesting for for you.
Filters
Filter will allow you to configure the selection of projects by a large number of parameters. And the number of filters is unlimited
Settings
Set up project monitoring in order to respond quickly to the best offers from customers.
Email notifications
Do not waste time to monitoring the tape projects - configure notifications to the mail.
PrimeLance Pro
$

1
PrimeLance Pro subscription gives you access to advanced site functionality. If you are a real professional who care about his time - try PrimeLance Pro today.
Read more
"There's a feeling of structure that you can't find in other templates — Stack has become my default template."

Jason Briggs

Envato Customer

"Variant has been a massive plus for my workflow — I can now get live mockups out in a matter of hours, my clients really love it."

Rob Vasquez

Interface Designer — Yoke

"We've been using Stack to prototype designs quickly and efficiently. Needless to say we're hugely impressed by the style and value."

Maguerite Holland

Interface Designer — Yoke