7 Best Freelance Tools to Find New Clients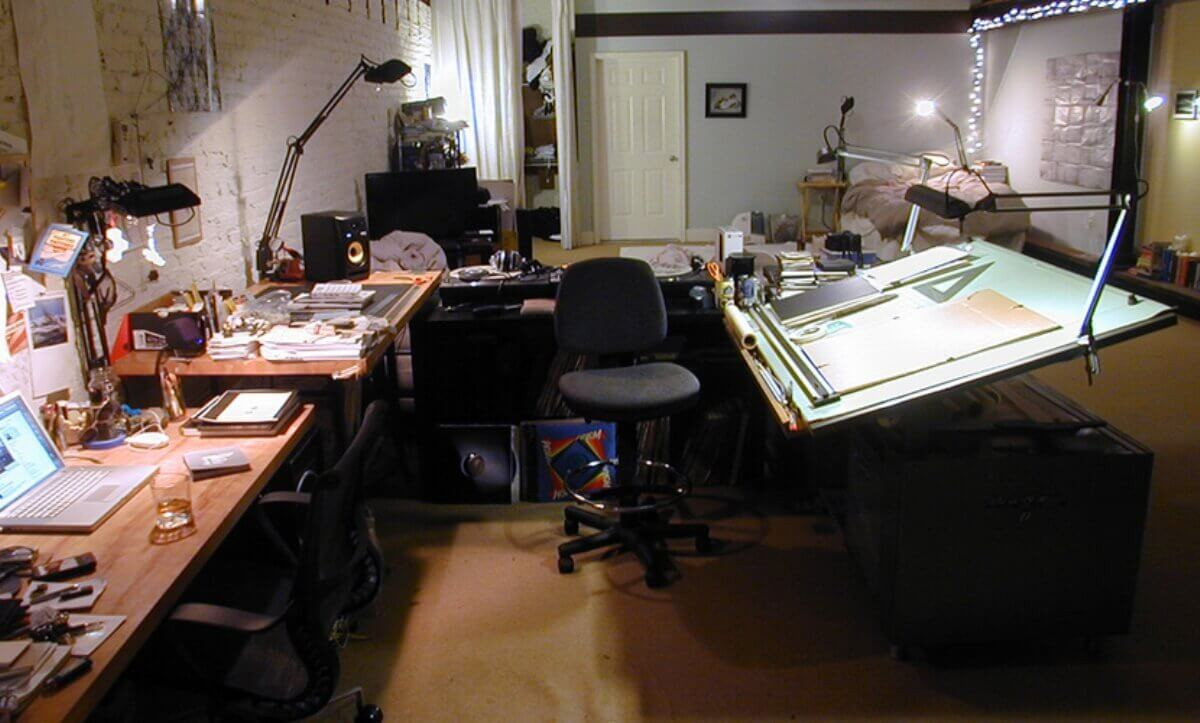 A freelance job is much less boring than any average career. At the same time, working remotely means having to fully manage your business, from keeping track of invoices, supervising your time to finding new clients. And making the leap to being your own boss comes down to knowing how to deal with all the aspects of this venture.
The process of finding new freelance clients often turns into something of a mess. According to Forbes, an estimated 57 million Americans have done freelance work at some point or fully joined the freelancing community. This means that the industry is getting more and more competitive day by day. In this light, understanding how to quickly reach out to clients and build a client pool becomes a vital skill for today's freelancers. In this post, we decided to compare some of the best freelance management tools that can be highly beneficial for those searching for new clients. So get your freelancing muscles ready and let's get going.
Best Tools for Freelancers 2020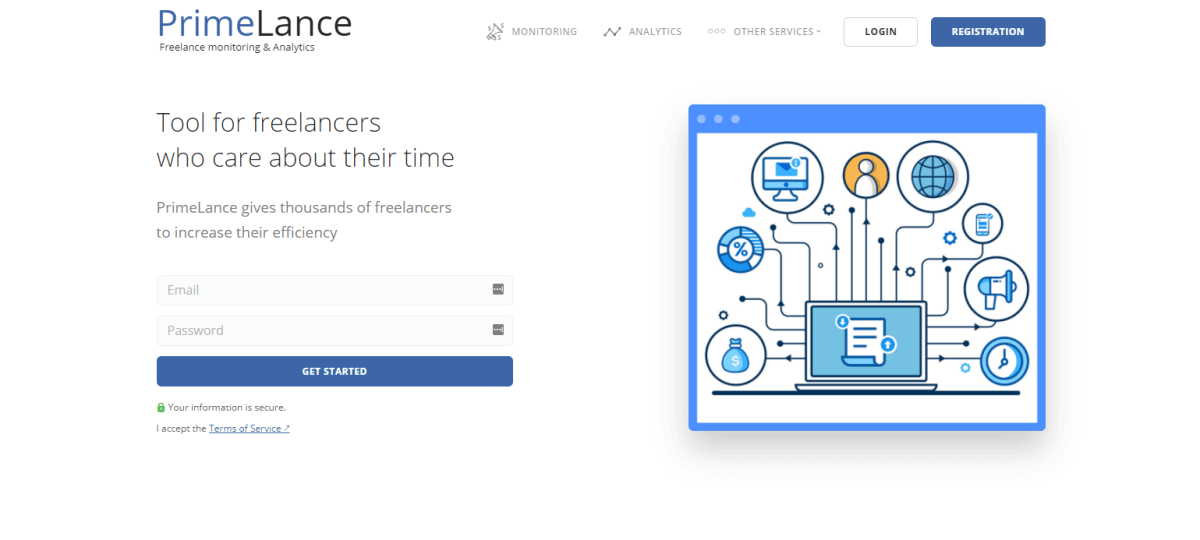 Primelance allows you to get the most relevant projects from Weblancer and other popular freelance platforms at once for just $1 per month. With Primelance, you can choose between working with international or Eastent European freelance sites.
What it provides?
Monitors several freelance job boards of your choosing

Filters projects using multiple parameters, such as price, keywords, etc.

Notifies users about new projects

Price: $1/month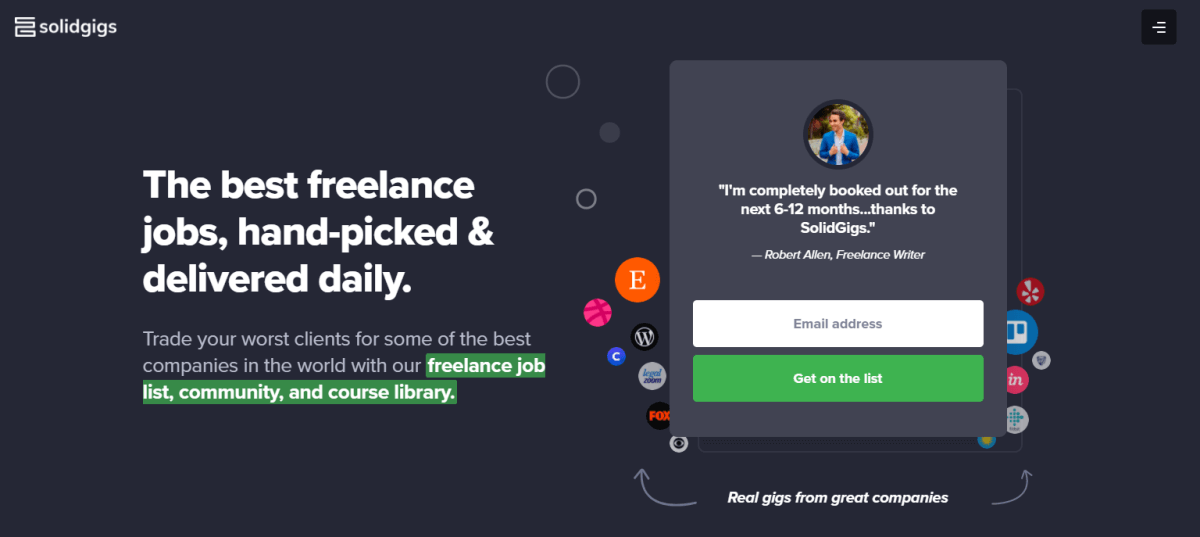 SolidGigs is an extension of Millo.co that sends you worthwhile clients looking for freelancers for work. This service really helps you take that stress away of thinking of where to find your next project.
What it provides?
Courses from professionals in business and freelancing

Hand-picked list of freelance jobs and reliable clients

Price: 19 dollars/month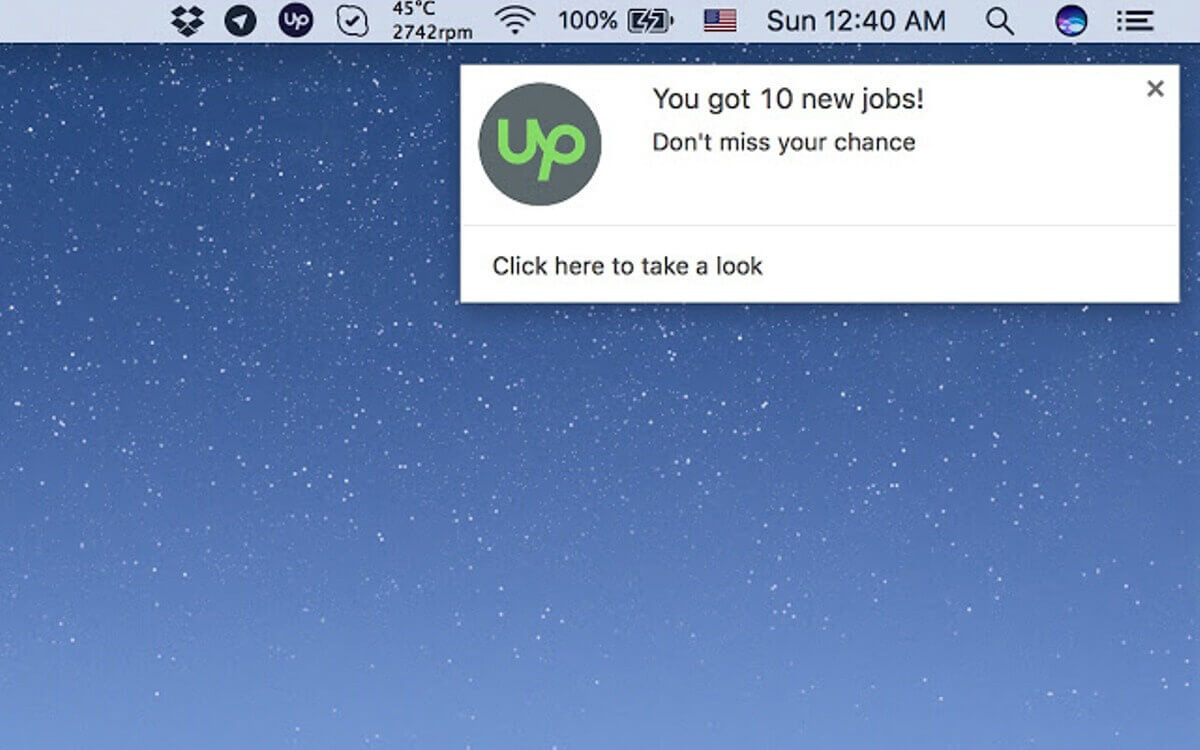 This is a Chrome extension that gives you pretty much the same functionality than the previous two. The only difference is that it is limited to Upwork. Some users complain that if you are new to this freelancing platform, you will have to perform regular jobs search with prefered criteria, otherwise, it will display you an empty job feed.
What it provides?
Customizable filters

Configurable frequency of project checking requests

Native Chrome notifications whenever new job is available

Price:free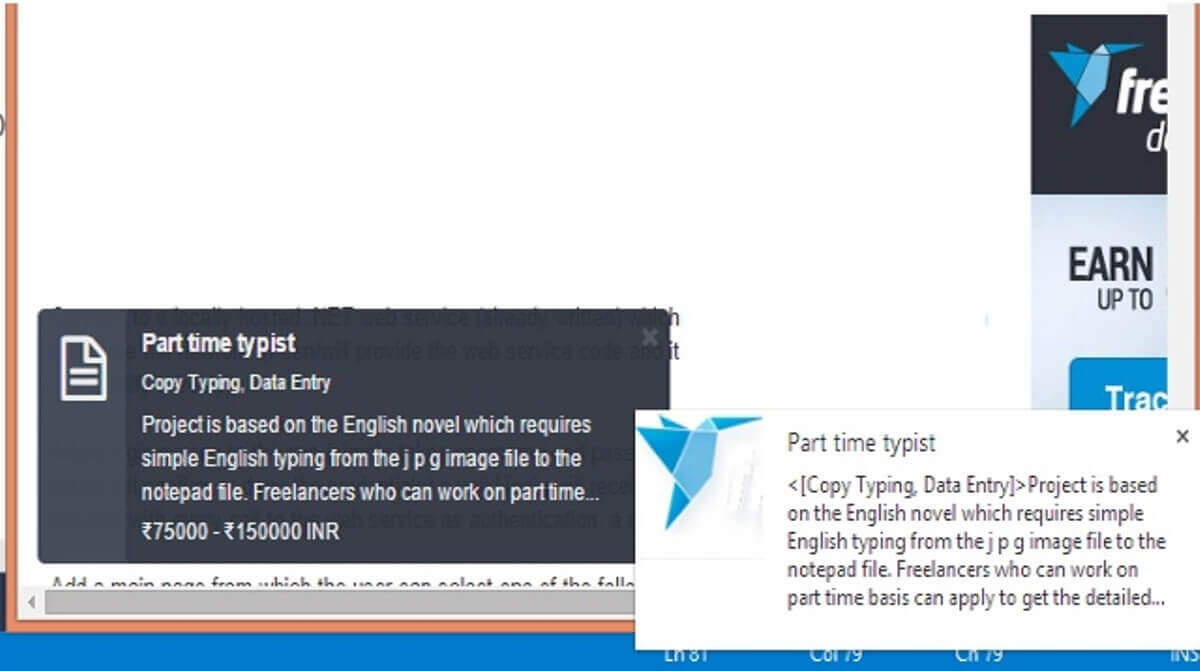 This is also a Chrome extension that allows you to get notifications of job offers placed on freelancer.com. With Freelancer.com Notify, you will not have to keep your freelancer.com window open to be notified of new job opportunities. The only thing is that some users report of its unstable work.
What it provides?
Native Chrome notifications about new job offers on your desktop

Price:free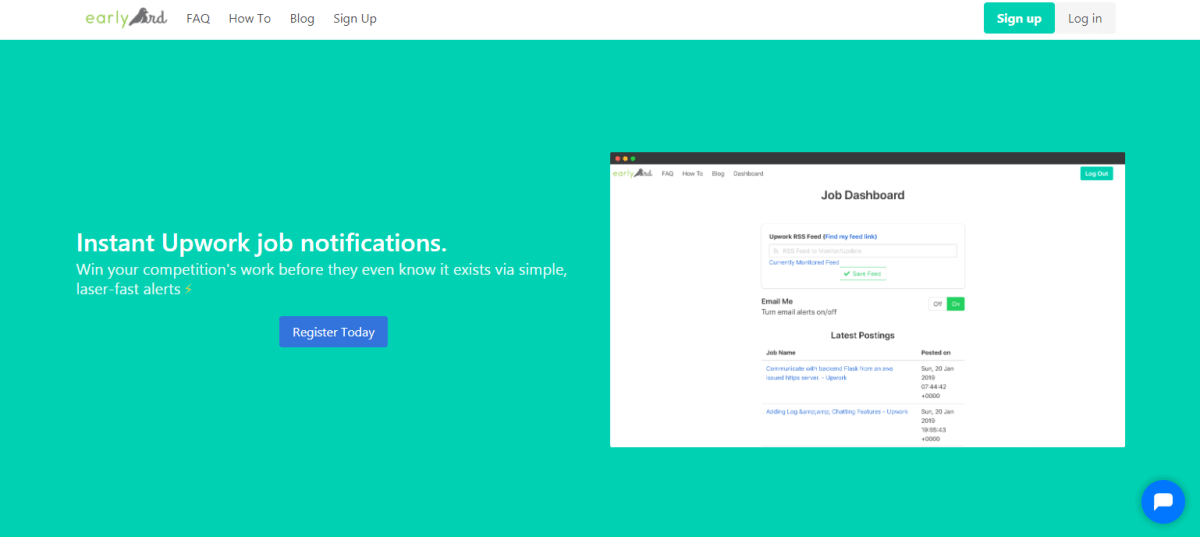 This service provides you with the ability to get the most of Upwork by instantly notifying you of the new jobs matching your pre-set parameters. All you have to do is to import your Upwork RSS feed to EarlyBrd.
What it provides?
Supports custom alerts to numerous PM tools like Trello

Provides instant alerts for new job opportunities

Price: $9.99 for the first 50 users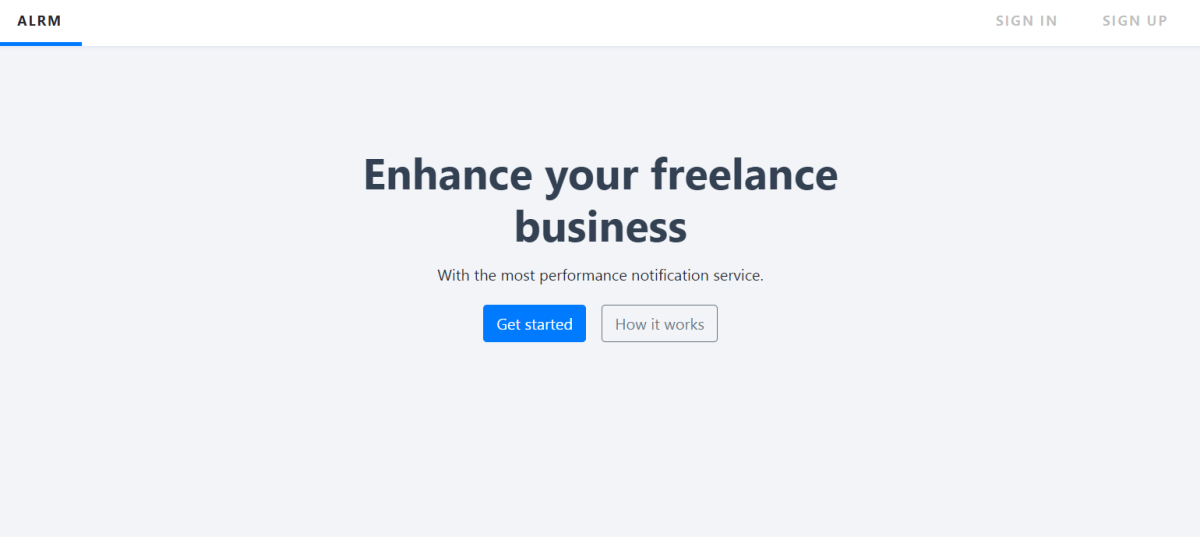 Alrm alarms you when a new job shows up via the preferred channel. These alarms are highly customizable, however, you can use only one for free. Every next alarm will cost you $1.99/month.
What it provides?
Allows receive new job offers via the channel of your choosing

Allows to easily manage your alarms

Price: $1.99/month per alarm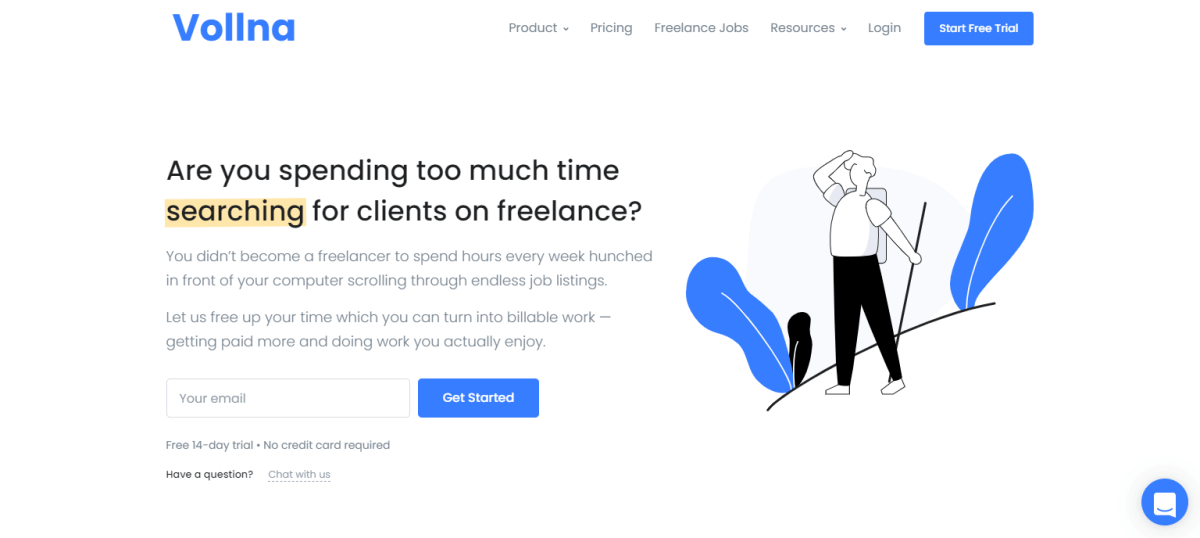 Vollna offers you the ability to manage job offers from the top freelance sites at once. You can easily filter your projects using multiple parameters, such as budget, deadline, job type, country, language, and more. If needed, the filter results and bookmarks can be exported to CSV (Excel) or JSON.
What it provides?
Highly customizable filters

Spam protection

Protection from risky employers

User-friendly navigation

Price: $10/month with a free trial and full money back guarantee
Key Takeaways
Above we have collected most of the top freelance tools 2020 that can help you in starting, developing, or scaling your freelance business. We hope that they will be helpful to you in getting started with this type of career. If there is something missing from the list, do not hesitate to let us know in the comment section below. Good luck!